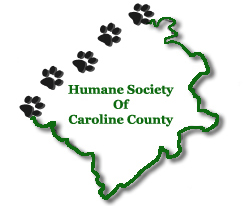 We are a 501(c)3 non-profit voluntary organization dedicated to the humane treatment and improving the welfare of animals. We exist soley by the donations of time, money and adoption fees. We do not receive federal, state or local tax dollars. Our Mission, through our Foster/Adoption Program is to rescue, assist with and provide for the health and welfare of animals that have been abused, neglected, abandoned, surrendered, lost or injured.
Shelter Address
P.O. Box 75
Ruther Glen, VA 22546

Contact eMail
hscc.adoptions@gmail.com
Website
http://www.carolinehumanesociety.org/
Adoption Process
There are several steps taken in order to verify that all of our pets are placed in the correct loving home. We hope you understand all the time and effort it takes to adopt one of our pets. Volunteers handle all of the adoption application steps and we would appreciate it if you make sure you are committed to adopting one of our pets prior to applying. Talk to everyone in your family to ensure everyone is committed to adopting a new family member. Fill out our online adoption application, print it out and mail to the address on our home page. The Humane Society of Caroline will then call your personal references as well as your veterinarian (or a veterinarian that you have chosen). Once your references check out, we will contact you to set up a home visit. We will contact you to let you know if you qualify to adopt. At this point we will try to introduce you to the dog/puppy that you are interested in, or we feel would be the perfect match for your family. Once we have found the perfect pet for you, we will finanlize the adoption and collect the adoption fee of $125.00 for cats and $175.00 for dogs. This fee includes spay/neutering costs, your pet being up to date on all shots and on heartworm and flea preventative prior to adoption. The final and most important step is to love and enjoy your new family member for the rest of its life and please remember us when you want to adopt your next wonderful companion.
Login, as provider, please, If You want to Claim or Edit petshelter...
Add your review for Humane Society of Caroline County, please...