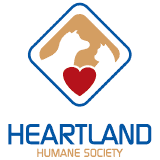 Heartland Humane Society is a Private NonProfit 501(c)3 corporation governed by a volunteer Board of Directors. We are limited admissions facility - meaning we that we take in animals by appointment and only when appropriate space and resources are available to care for them. As a non-profit we rely 100% on private donations. We generate funds through your generous contributions, adoption fees, fundraising events, and sales of merchandise and services. All funds collected go directly back to the general budget to care for our animals. HHS was established in 2006 from a group formerly known as the Yankton Area Humane Society. We serve Yankton, Clay, and Cedar counties primarily with an additional eleven county area often receiving our services.
Shelter Address
3400 East Highway 50
Yankton, SD 57078

Contact eMail
hhs@midconetwork.com
Website
http://heartlandhumanesociety.net/
Pet types
Dogs/Cats/Guineas/Hamsters/Birds
Location served
Yankton, Clay, and Cedar Counties
Adoption Process
Step 1 - The Adoption Application. Step 2 - Meet our Pets. Step 3 - Adopt your Favorite
Login, as provider, please, If You want to Claim or Edit petshelter...
Add your review for Heartland Humane Society, please...